An industry and a family with a passion for quality and beauty
At Meson's we have been producing quality kitchens for over 50 years. We do it with passion and imagination, listening and researching, because we believe that innovation travels on many roads. We are indeed convinced that "innovating" does not simply mean "replacing the past with a present without roots": the search for new design solutions must necessarily integrate tradition and modernity, interpreting changes through experience. We offer materials that are compatible with the quality of the environment and harmonious in their shapes and combinations, because we believe that living in harmony and beauty makes us better people.
Born in 1964 and belonged to the Zanussi Group for several years, the Meson's brand has been owned by the In managing organizational, production and marketing activities, the owner, Gabriele Piovesana, is supported by his sons Loris, Maurizio and Stefano.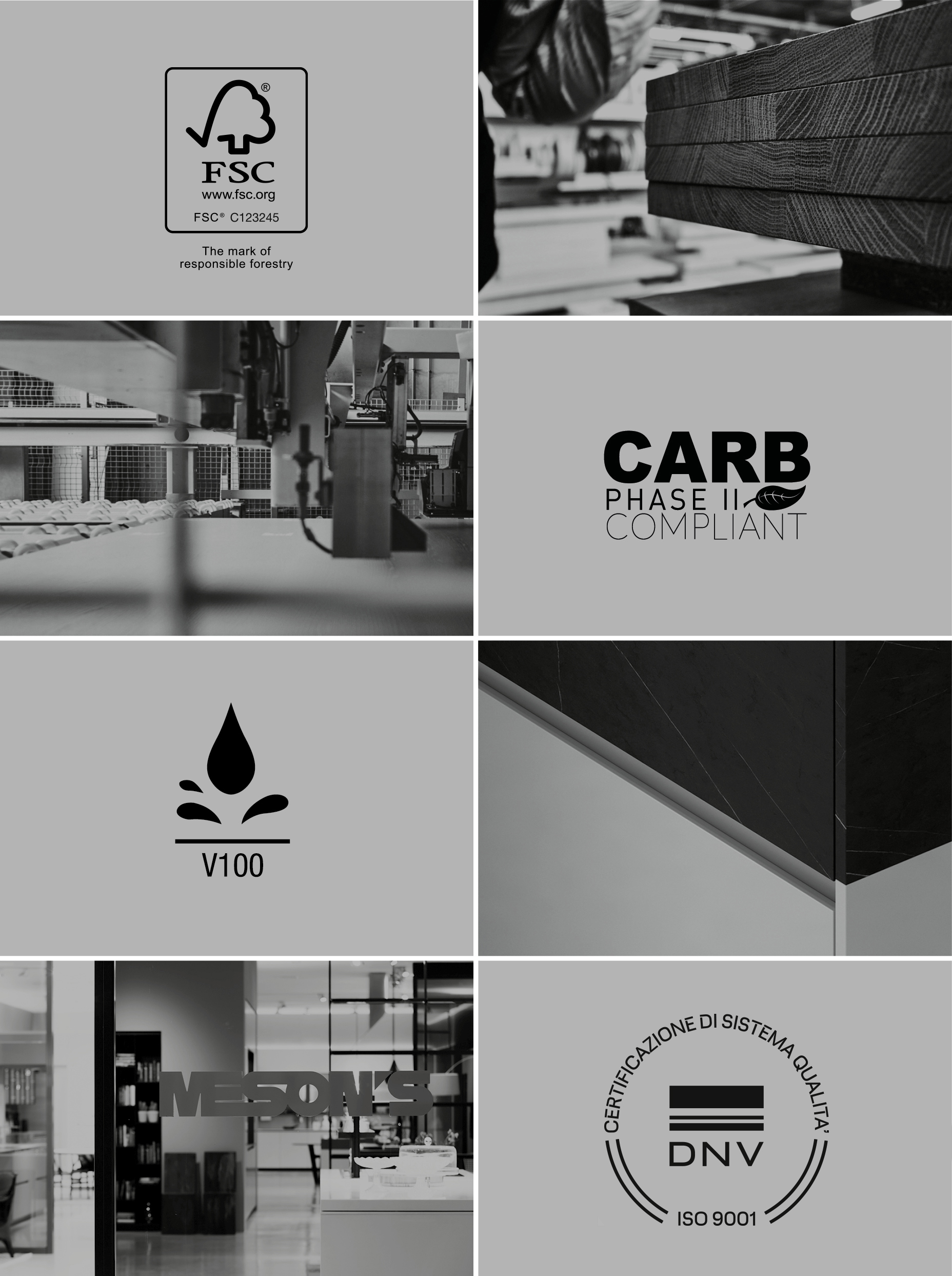 Each Meson's kitchen is built to ensure a well-being of total use and an environmentally friendly production
Every aspect concerning the production of a Meson's kitchen follows an ethical code that reflects the philosophy of the people who lead it. The result is a total dedication to guarantee the user from every point of view and to ensure a virtuous use of the planet's resources. From this general approach derives a natural coherence with the requisites requested by the main certifying bodies.
Among the guarantee marks obtained by the company:
_ FSC® certification, that guarantees the traceability of the wood and the origin from forests used in a responsible way, issued by the Forest Stewardship Council®, an organization which includes groups such as Greenpeace and WWF, indigenous communities, researchers and other entities involved in the topic deforestation;
_ CARB2 certification, that guarantees compliance with the formaldehyde emission limits required by the California Air Resources Board;
_ certification of compliance with ISO 9001: 2015 quality standards for the design, production and marketing of furniture and furnishing accessories. Meson's also uses V100 panels characterized by the highest level of water repellency and moisture resistance.